Exclusive to marlene4ever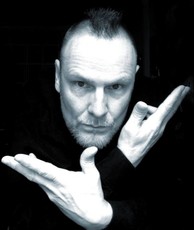 In Düsseldorf geboren, absolviert Ulrich M.Puchstein eine Lehre zum Film- und Theater Friseur, macht ein Dekorateur Praktikum und erlernt den Maskenbildner. Geht nach München und arbeitet für das ZDF. Durch seine Professionalität ist er schnell in Deutschlands Cabarets und Theatern zuhause. Mit seinem Make-up Team betreut er Fotografen bei Fotosession für Werbung, Theater, Mode- Musik- und Videodrehs.
In Zürich leitet Ulrich die Maskenbildnerabteilung des Musical Varietés Polygon und macht die Kostümbetreuung. Er entwirft Bühnenkostüme, Bühnenbilder und betätigt sich als Kulissenmaler. Zum Portrait-malen wurde er durch die schwarz/weiss Fotografie und nicht zuletzt durch die Liebe zum Konterfei des Filmstars Marlene Dietrich inspiriert. Marlene Dietrich ist immer wieder das Malobjekt; sein Markenzeichen ist die Schwarz-Weiss Malerei (mit kleinen Farbeffekten).
Ulrich macht bis 2000 viele Auftragsarbeiten, Portraits, Figuren vieler Stars und Privatpersonen. (Techniken sind Aquarell und Acryllacke auf freigestellten Holzplatten die ohne Rahmen ihr eigenes Objekt sind.
In all der Zeit seit Mitte der 70er Jahre, hat sich Ulrich vom wilden Marlene Dietrich Fan zum seriösen, akribischen und professionellen Sammler und Kenner entwickelt. Mit heutigem Sitz in der Medienstadt Hamburg greifen weltweite Agenturen gerne auf sein Archiv zurück. Ulrich ist Mitglied in Lothar´s internationalem marlene4ever-fan-club seit den ersten Stunden der Entstehung und bis zum heutigen Tag tauschen sich die beiden Freunde über das Geschehen um; mit und über Marlene aus.
Born in Dusseldorf Germany, Ulrich M.Puchstein studies apprenticeship for film- and theater hairdresser, makes a decorator internship and learns the makeup-artist. He moves to Munich and works for German Television. With its own makeup team he supervised photographer at photo session for advertising, theater, fashion, music and video shoots.
Ulrich directs In Zurich, Switzerland the stage department of the musical variety shows at Polygon and makes the costume care. He designs stage-costumes, stage-sets and operates as a set-painter. His portrait-painting was inspired by the black / white photography and last but not least by the love of the likeness of the movie star Marlene Dietrich. Marlene Dietrich often is the object for his paintings; his trademark is black and white painting.
Ulrich makes many commissioned works, portraits, figures of many stars and individuals. (Techniques are: watercolor and acrylic paints on exempted wood panels, which are their own area of effect without a framing.
In all the time, ever since the mid-70s, Ulrich has developed from a wild Marlene Dietrich fan for a serious, meticulous and professional collectors and connoisseurs. Today he's located in the media-city of Hamburg. Germany global agencies rely on his archive. Ulrich is a member of Lothar's international marlene4ever-fan-club since the very first hours of its founding. Up to this day the two friends swap information's of what is happening around the world of Marlene Dietrich.
Many thanks to Ulrich M. Puchstein, for the supply of the photo. Vielen Dank an Ulrich M. Puchstein, für die Bereitstellung des Fotos.