David Garrison, Sean Hudock & Ellen Foley Set for DEEPLY SUPERFICIAL Reading at La MaMa in May
11 am Wednesday May 11, 2016 at La Galleria at La MaMa, located on 47 Great Jones Street New York
Tony Award nominee David Garrison, Sean Hudock and Ellen Foley will appear in an industry reading of writer and film executive Michael Menzies' new play DEEPLY SUPERFICIAL.
Multiple Barrymore Award-winning director Charles Abbott will helm the presentation.
Based on his published memoir of the same name, DEEPLY SUPERFICIAL brings Menzies' enchanted life to the stage with the same unique wit and charm that has captivated Michael Menzies readers for decades. Lured by film legend Marlene Dietrich and theatre icon Noel Coward and driven by a vivid imagination, Michael journeys from New Zealand to New York, by way of London, Paris and Berlin, on a young man's search of a lifetime.
DEEPLY SUPERFICIAL is presented by Wild Root Co, a New York City production endeavor committed to the development of inventive new works from playwrights and screenwriters, with developmental support from La MaMa and Mark Heidel.
David Garrison -
Noel Coward
Ellen Foley -
Marlene Dietrich
Sean Hudock -
Michael Menzies
EUROPRIDE GALA in THEATRE PATHÉ TUSCHINSKI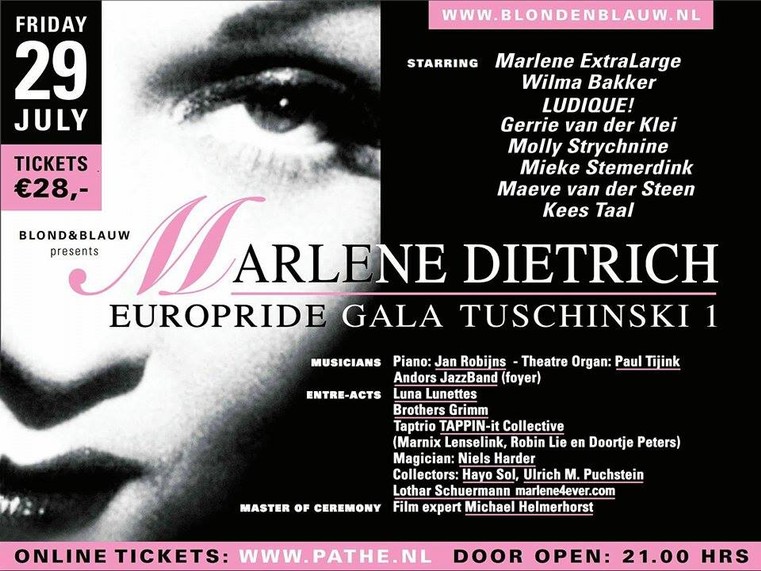 Homage to the Film Legend Marlene Dietrich
'The woman with the bedroom eyes' -

29 july 2016
This one-time Gala tribute to the legendary grand Diva takes place during the EuroPride2016 on July 29 in Tuschinski Theatre, Amsterdam. Marlene's magic, her repertoire, films, photos and life story as told in biographies and documentaries inspired many artists and performers all over the world. Projected on the big screen and presented on stage we will meet her spirit again as in the old days. From 1929 starring as Lola in the film Blue Angel to the time when she performed in Tuschinski live on stage in 1960 till her last days of solitude in Paris.
Host Luna Lunettes & Brothers Grimm welcomes you on the Red Carpet
Music in foyer by The Andors Jazzband
The Gala will be presented by Wilma Bakker with a variety of international artists and performers. They will take you back in time on a theatrical journey from Berlin to Hollywood, Venice, The Côte d'Azur, along the frontlines of WOII to Las Vegas and Paris where Marlene lived and spend the end of her days
Singers in order of appearance
Piano Maestro Jan Robijns
Theatre Organ player Paul Tijink
Taptrio TAPPIN-it Collective (Marnix Lenselink, Robin Lie en Doortje Peters)
Collectors Hayo Sol, Ulrich M. Puchstein, Lothar Schuermann FanClub marlene4ever
Date: Friday - 29 july 2016, 22:00 hrs
Location: Theatre Pathé Tuschinski
Reguliersbreestraat 26 - 34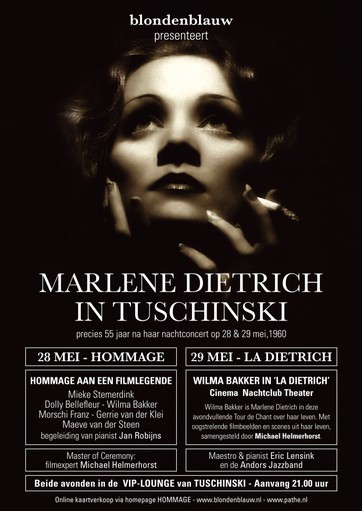 Blond & Blauw production is proud to announce a two days event and Hommage of the Filmlegend Marlene Dietrich in Pathe Tuschinski on Thursday 28 mai and Friday 29 mai 2015 at 9.00 pm. It is exactly 55 years ago that Marlene gave her night concert in Tuschinski theater in 1960. These two days are a beautiful ode to the grand Diva with guest performances by artists, actors, fans, anecdotes, images and a reconstruction of her nightconcert on 28/29 mai in 1960' a must for fans. Presentation is owned by filmexpert Michael Helmerhorst & actress / singer Wilma Bakker

27 January 2015 Pathé Tuschinski Theatre Reguliersbreestraat 26 1017 CN Amsterdam
Hommage aan Marlene Dietrich

Blond & Blauw productions is proud to be the Homage of the Film legend Marlene Dietrich to announce in Pathé Tuschinski on Tuesday 27 January 2015 at 9: 00 pm. It is exactly 40 years ago that Marlene gave her last concert in Amsterdam (Carre Theatre). The homage is a beautiful ode to the grand Diva with guest performances by artists, actors, fans, anecdotes, images and a reconstruction of her last concert in 1975 ' a must for fans! Presentation is owned by film expert Michael Helmerhorst and actress/singer Wilma Bakker.