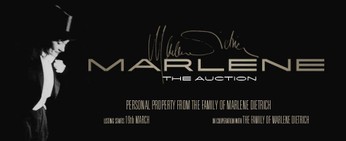 The Curators Choice
There are many people throughout history who have affected the course of women's independence, Marlene Dietrich was one such woman. The German born icon was the heartthrob of the Hollywood screen for both men and women during the 1930's. Men wanted to be with her, and women dreamed of exuding her sexual confidence, uncharacteristic of many females during this era. Beginning her career in Hollywood alongside the likes of Greta Garbo, Marlene soon differentiated herself from other onscreen stars, by becoming the very first femme fatale. Today we remember the women who reinvented women's fashion, and "freed" women everywhere from sexual constraint, with a auction titled The Marlene Dietrich "The World's Most Glamorous Grandmother" Sale by AuctionMyStuff. The sale headed by Megan Mulrooney and Patrick van der Vorst, will take place next week, the 19th of March, on the website AuctionMyStuff founded by Mr. van der Vorst himself. The items vary in price from $10 to $30,000, thus allowing anyone perusing the auction via the website, to purchase a piece of Hollywood history.
Although owning any piece of this auction means possessing a unique piece of Hollywood history, I have conglomerated a list of curator's favourites. There are obvious choices from the jewellery collection, such as the diamond and emerald cluster necklace, or the emerald and pearl set cluster ring in a gold
mount. However the most beautifully understated jewellery piece of this auction seems to be the Aquamarine Ring. Set in 14 ct. gold, the oval cut aquamarine stone is of a pale colour. From the 20th century, the ring once belonged to Marlene and as such will have a premium on the value. The round cut singularly set stone has a sense of modernity to it, which one could imagine in today's boutiques that makes the allure of this ring all the more overcoming. As opposed to wearing an antique ring, one could imagine on their grandmother, once again Marlene has jumped ahead of trend, with this beautiful and elegant piece. Estimate: $3,000-5,000

Another accessory that could be owned by both men and women, is a sterling silver money clip, once owned by Marlene's husband. This simple, yet elegant money clip is representative on the man who owned it. Rudolf Seiber, the only husband of Marlene Dietrich, was an elegant and reserved gentleman. In an interview with the Milwaukee Sentinel in 1960, Rudolf said, "Why has this marriage survived the long separations, the vast difference in modes of living, and countless divorce rumours through the years? Sieber was breaking a silence of almost 30 years when he answered, simply but intensely: "Because it's as good a marriage today as it was in 1924, when it was performed. The bond between us is just as strong. Only death will end our marriage." This small piece, that many would view as insignificant belonged to a man who once knew Marlene, the enigma, better the anyone. A small item, with a big history. Estimate: $30-50

Marlene broke boundaries between the expectations of male and female, not only in terms of sexuality, but fashion. Often pictured in men's clothes, she worshipped men's fashion of the era, famously the majority of her watches were male, as well as her wallets. One such wallet is now available to purchase. Slightly worn, and well loved the stamped "Hermes Paris" wallet opens to a leather interior with bill slots and a billfold. 1960's. A wonderful item, closely related to the femme fatale persona she often exuded. Estimate: $150-250

One piece of this auction that stands out as an extraordinary piece of Hollywood History is a collection of silver gelatin prints, collected by Marlene's daughter Maria. As a child Maria often spent a large amount of time at the film studios, to keep herself occupied whilst "mommy" filmed, she would walk around the studios asking autographs of all the stars on the lot. All are signed to "Maria" and include: Harold Arlen, Charels boyer, Maurice Chevalier, Ronald Coleman, Frances Dee, Marlene Dietrich (mother), Nelson Eddy, Jannette Mcdonald, Ray Miland, Dick Powell, Basil Rathbone, Norma Shearer, James Stewart, Robert Taylor, Eleanore Whitney and three others. 1930's
A unique collection of 1930's signed photographs.
All are slightly damaged with childhood punch-holes to fit in a two ring binder.

The photographs are by famous Hollywood Photographers such as George Hurrell and Valente. Estimate: $10,000-15,000

Marlene's husband, Rudolf Sieber was a keen collector of religious items. One of the most unique and understated religious items of the sale is a statue of St Francis. Sculpted in elongated upright pose, in traditional dress with rosary beads hanging from belt, the saint is raised from a cylindrical base in Gothic style. St Francis founded the Order of Poor Clares, which became an enclosed religious order for women, as well as the Order of Brothers and Sisters of Penance (commonly called the Third Order). A penitent man, Rudolf Sieber collected religious items throughout his lifetime, this piece is a favourite of the auction. Estimate: $600-800



Exclusiv for marlene4ever
Valuemystuff
Megan Mulrooney
Business Development
Executive

Kommentar nach der Auktion:
Gut gemeint, schlecht ausgeführt. Das neue Online Auktionshaus "auctionmystuff" hat auf ganzer Linie versagt! Angefangen
bei Serverausfall zu beginn der Auktion, über unbeantwortet gebliebene Fragen bis hin zu unangekündigter Auktionsverlängerung
und plötzlich aus der Auktion verschwundene Artikel.

Comment after the auction:
Well-intentioned, poorly executed. The new online auction house "auctionmystuff" has failed all along the line! Started
during downtime at the start of the auction of remaining unanswered questions to unannounced auction extension
and article disappeared suddenly from the auction.